I braved town during my lunch break last week and bought some buttons for the jacket. I liked the slatey look of the black buttons, but as the yarn was darker than I'd like anyway, I thought the paler buttons brightened it up a bit. It is for a child after all.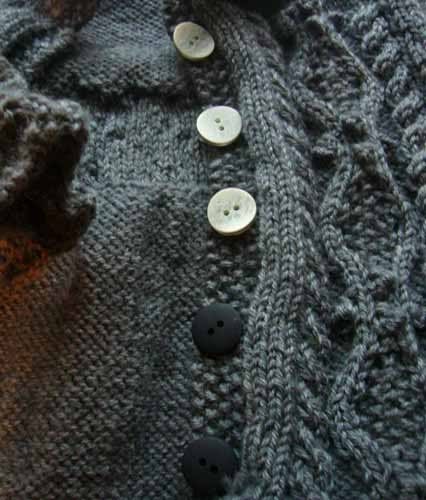 The embriodery on the smocking pattern was attempted, but the knitting is busy enough without spots of colour, so I took it out.
The jacket is now blocking, and looks pretty smart.

I have already started planning my next project, which I think is going to be a pair of wrist warmers, made from some Noro Silver Thaw that I picked up cheap. I don't have any 4,5mm dpns, so am going to attempt to learn how to knit in the round on two circular needles. It doesn't look so bad (famous last words). I know I ought to do a bit more work on the DB hooded jacket for me, that's been languishing at the bottom of my knitting bag for a year. Ah well.

So what I have I been doing? I've been knitting small hats. They are remarkably good fun to make, and for a worthy cause too!