Have started on the 'Hurry Up Spring' wrist warmers, although I think I should rename mine 'Come on Autumn' as I am knitting them in expectation of chill clear autumnal days with a nip in the air. The weather forecast is quite warm for the weekend, but turning chillier next week so I am hoping to have them finished so I can wear them out and about on my week off! Yes, I have holiday!! I can't wait, I'm so looking forward to having just a week of pottering around doing our own thing.
The wrist warmers pattern calls for 4,5mm dpns which I knew would be difficult to get locally, so I'd planned on trying the two circ method which many people rave about. However, my local supplies shop (which is more of a craft and sewing trimmings shop than knitting although they do stock some yarn and needles) didn't have what I wanted. I managed to get one long circular needle with which to make my wrist warmers using the Magic Loop method.


My first trial run using acrylic wool mix yarn (left over from Samuel's tank top) wasn't entirely a success, I got the method ok, but ended up with nasty ladders down the sides where the cable of the needle seemed to pull apart. Undeterred, I have cast on with the Silver Thaw and this is the progress so far: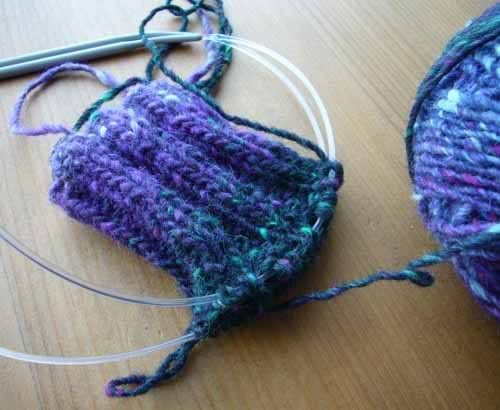 It's not too bad, I think, although the Noro isn't looking quite as fabulous as I was hoping it would. I'm not sure about the little flecks of colour and I was expecting there to be more overall variation in the shading. It is certainly softer than the Kureyon though, which is something.


I have colour coded the chart to make it easier to read and I am also a little unsure about what happens when I get to the thumb, but until I get to that part I shall try not to think about it too much.