After 18 months on the needles (a goodly proportion of which was spent languishing at the bottom of my knitting bag) the hoody is done. I don't know if it is because it took so long to finish it and in the end it seemed like a bit of a chore, but I am not as pleased with it as I expected to be. On the whole I like it - it is warm and comfy to wear, but when I look at it I keep seeing all the little things that are not quite right.
So here it is, being modelled (properly, just for Kai and my apologies to the rest of you, but don't worry it won't happen again in a hurry) by me.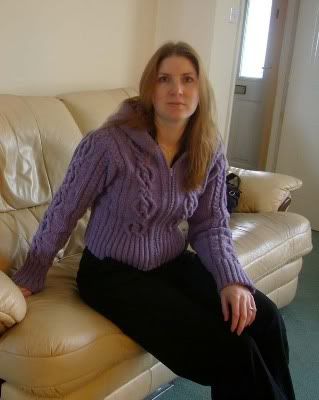 Pattern: Debbie Bliss Cable Jacket with Hood, Debbie Bliss Number 4.
Yarn: Welsh Aran Wool (Sweetpea) from Trefriw Woollen Mill, North Wales
Needles: 4mm and 4.5mm to get gauge

Changes to pattern: Increased length of arms and made a shorter hood in stocking stitch with additional shaping. I picked up the stitches as per the pattern and knitted in st/st for about 8" then split into two halves, working on each side separately. The shaping was done by decreasing at the centre edge as follows (keeping to stocking stitch with the garter stitch border):
decrease 1 stitch on 6th, 9th, 12th, 15th, 17th, 19th, 20th, 21st, 22nd and 23rd rows
decrease 2 stitch on next 4 rows
decrease 4 stitches on next row
decrease 2 stitches on next row
decrease 4 stitches on next row
cast off
Repeat on other side to create a V shape in the centre of the hood, which when sewed up makes a rounded hood shape.
So I currently have NO WIPS! This feels a little strange and I shall be casting on for some Zebra socks this very night.