Where is the time going?

I cannot believe it is a week since my last post and it is already March. It doesn't seem like two minutes ago that it was Christmas and here we are, birthdays over and done with, the days are getting longer and Mother's Day is looming up. I didn't realise until earlier today that Mother's Day is a moveable celebration, and always falls on the third Sunday in Lent, having to do with an old custom of visiting ones mother-church, or something. I think I prefer the idea of celebrating my real mother, something which has become more important to me in the last couple of years, after two of my closest school friends sadly lost their mums and my own had to undergo some very icky treatment for a serious illness.

Thankfully, Mum is fine these days and pretty much back to her old self. And for her Mother's Day gift, I am making the Posh Yarns lace weight into a very summery looking Cherry Leaf Triangular Shawl from Victorian Lace Today. It is a pretty leafy pattern with a garter stitch border at the moment, on to which the fancy border will be knitted afterwards. I'm on repeat 6 of 15 and so far, so good.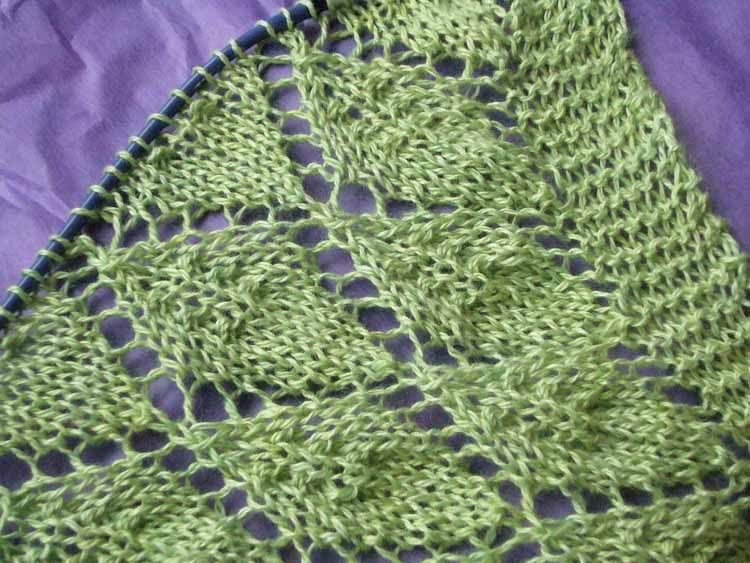 This last week has been filled with lots of activity, some bad, some sad, some middling, some very good (this was going to see Nine Inch Nails live at the Manchester Apollo on Sunday night, which was top class!!), but not much of it knitting related. So in order to fill up some space, here is a pic from this day three years ago, which was a leap year – and we had snow! This was taken on February 29th 2004 on the way up Fair Brook to Kinder Scout.