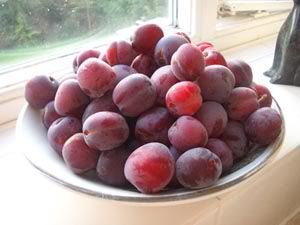 ...only I didn't have to go far, and it didn't take very long.
Plums from the tree in the back garden! Yummy too, if a little small...

Still this is a vast improvement on last
year's harvest and to say the little tree is only 3 years old and has some vicious winds to contend with, I think it's done us proud.




On the knitting front, I bought a the September issue of Simply Knitting yesterday. It came with a handy blue plastic carry bag (which smells just like those arm bands you use when you're a kid learning to swim) which I thought looked rather useful for my current Opal Carnival baby cardy project. Almost immediately I spotted the flaw in this plan....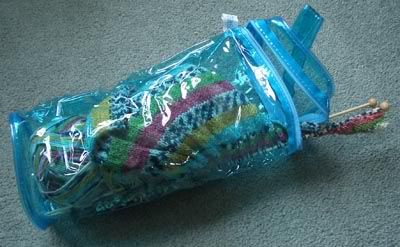 I am quite proud of myself at the moment, because I have just come in from mowing the lawn. So the 'About me' description is wrong for the time being, but it will soon correct itself. No doubt sooner than it should...

I wore the pedometer while mowing the lawn and discovered it takes me 2000 steps (with a very quick go over with the rake as well)... which reminds me, I have another photo related to the trip to High Street which I took before resetting the pedometer (it has been proudly displayed on the bookshelf for the last few days!)

Woo hoo!