I was thinking earlier about how my knitting gallery doesn't seem particularly full - considering that I seem to always have something (or even a couple of somethings) on the go and came up with the following list of
other recent projects (well, from this year...so sort of recent-ish) which I didn't take pictures of:.

Debbie Bliss Moss Stitch border baby cardy (from Knitting issue ?) for Beth

Wine bottle cosy from Knitty.com for Lisa

Opal Lollipop socks, my first try at making socks, for Kirsty

Sirdar cabled hoodie in Snuggly 4 ply for Samuel
Sirday cabled hoodie in Snuggly DK for Jared

This doesn't include the mitten experiment that went wrong, the tiny socks which would probably fit a teddy bear (or maybe a preemie???) and numerous other non-starters...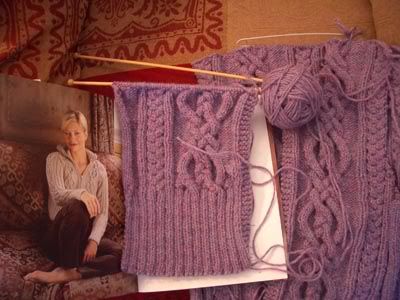 The Welsh Sheep Wool jumper: work
in progress
(taking a back seat to the Opal Carnival cardy atm)