Alright, so I guess Anne Robinson or Magnus Magnusson have nothing to fear from me. The Knitting Geek award of the day goes to Badger, for successfully guessing that the mohair fluff is becoming Tess's Summer Shrug from Simply Knitting Issue Sept 2005.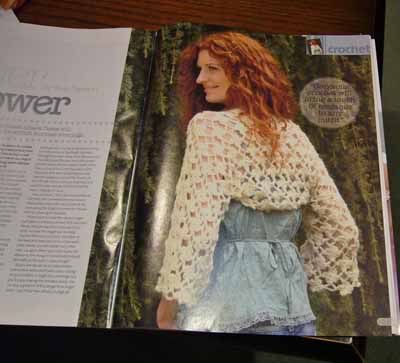 (not that mine will look anything like this, but that's the wonder of knitting - everyone's creations are different).

The baby cable socks are finished. I am quite pleased with the way they turned out, the garter stitch section down the gusset made for neat stitch picking up, although I think it gives the sock a bit of an odd look. Not sure I'll bother with it again, as holey gussets was never something that was a real problem for me, I just usually pick up as many stitches as I think I need rather than what the pattern dictates and then knit into the back of them on the next round.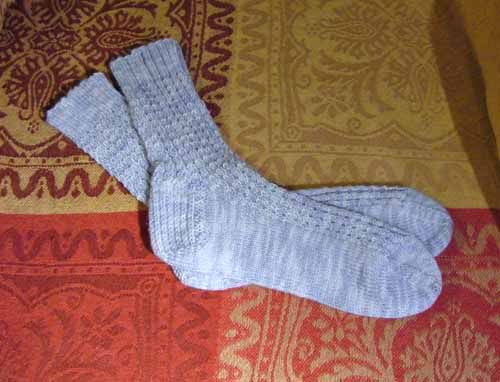 The yarn is Regia stretch 'Jeans' which is a lovely pale mottled blue. These are for Lisa's birthday (who bought me the LL's Purple Iris yarn) so I hope she'll like them and they fit ok.


I made some fluffy bed socks with bobbly cuffs to ages ago to practise my bobble making which had short row heels and they turned out ok (although far too frou frou for posting pictures of in public!!) so I think I'll try short row heels on proper socks next.

And finally, introducing Ickle Cow, who was made for me by Northern Monkey.