The boring baby cardigan is finished. It was quite an enjoyable knit (although to be honest, I think it would be strange if someone who loves knitting as much as I do thought something wasn't enjoyable to knit...) and I am rather pleased with the end result. I feel slightly guilty that more time, money and effort didn't go into this cardy, as the baby boy's elder sister got 'Dolly' from Jaeger knitted in Jaeger yarn with scallops and everything... but I doubt their mother will ever notice so I'm not going to worry about it too much. I am particularly impressed by the way the stripes of colour on the raglan sleeves match up on both sides. How on earth this happened is a mystery to me :)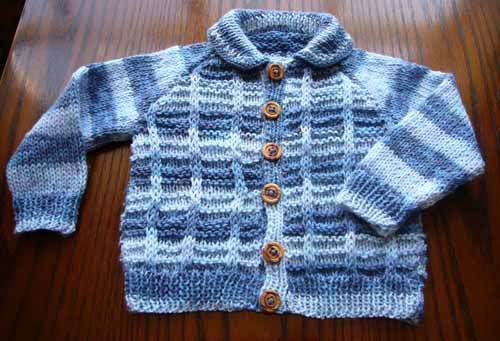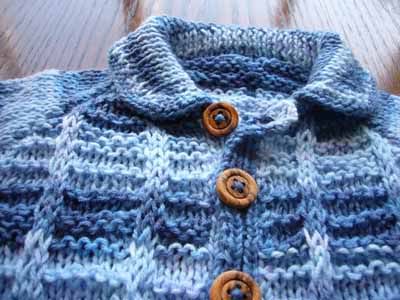 I am standing by my principles however and I am

not

making the hat. I wouldn't do that to anyone, let alone a little boy. It wouldn't be so bad but the pom poms! Just stuck there! like handles! What were they thinking?

I did the tension swatch for the DB smock jacket last night. The ball band on the yarn said 22 sts x30 rows on 4mm
needles, I needed more than this so used 3.75mm needles and ended up with 21 sts x 28 rows. Hmmm. Washing the swatch and pinning it to dry, I managed (with a little bit of encouragement and creative measuring) to get 22.5 st x 30.5 rows but I am not convinced. So the swatch has now gone in the washing machine to see what happens to it after a proper washing cycle. No doubt it will come out the size of a postage stamp, but it's worth a try. I am thinking I'll try again with 3.5mm needles, but I'll wait until the washing experiment is done before starting again. I should probably do a bit of work on the shrug anyway.

And I couldn't go without putting in a proper picture of Cadbury.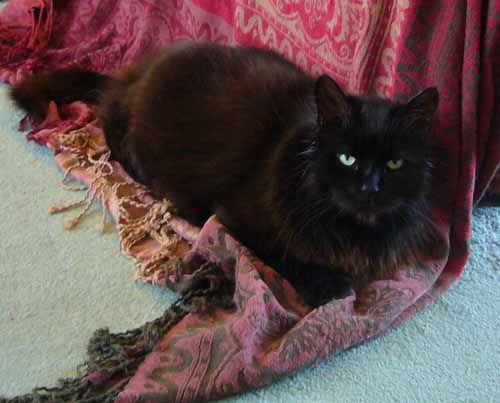 He'll try and eat anything, begs like an urchin, gets under your feet at every oppotunity, is scared of just about anything in the house that makes a noise (particularly the washing machine) but is so friendly and affectionate it's unreal. I think I'm smitten!