We got back from our holiday to Pembrokeshire on Saturday after a lovely week by the coast. It was slightly spoiled by me getting a stinky cold, but if that's the worst thing that happens to me this month, then it's not so bad.
Took loads of holiday snaps of our walks along the Pembrokeshire Coastal Path, which is a National Trail over 150 miles long. I think we managed about 20 odd, but it was meant to be a holiday so there was no expectation to ever manage more than a bit of it. The parts of the coastline we saw from Newgale up to Whitesands around St David's Head were beautiful and there were seals, birds, animals and many plants also. Some of the photos will be posted soon, promise.



My cold has pretty much knocked me out for the last couple of days. I spent a lazy afternoon yesterday watching Delia's How to Cook 3 repeats on UK TV Food, or whatever the foodie channel is called, while completing my entry for the Angel Yarns September Challenge. And here they are: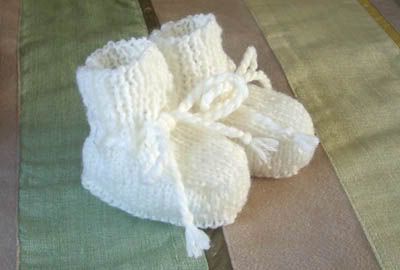 They were made with 3ply baby yarn from a free pattern
here
using some old wool from my stash. I think it's the stuff I used to make the crochet baby coat for Kay's baby girl - which must be going back 8 years now. Ouch.