I haven't posted in a little while, and really I think I've been doing you a favour as I have been not particularly good company and you really didn't want to be reading my endless whinging about the weather, being overworked because everyone else is on holiday and how hungry I am. There are silver linings to a couple of these, in that I will be able to gloat and be smug when I am the one disappearing on holiday and when I do go, I
will
be wearing those size smaller jeans.
I have often said that autumn is my favourite season and one that I look forward to, although admittedly I would have preferred to have had some sort of summer to break up the colder seasons. I love the colours of autumn and the thought of cold, clear days for which hand knit sweaters, gloves and scarves are perfect. The thought these days of my imagination will soon be here never fails to cheer me. Added to this some new books and the latest Fall magazines arriving, and I have been inspired afresh to start knitting and planning.
Firstly, I have finished the patterned socks. They were a lot of fun to make, although the end results are not quite as satisfying as I would have hoped. The stripes around the foot look great, I think, but the changeover of the yarn created a seam under the foot which despite my best efforts not to pull tightly, is quite noticeable when walking in them. If they were for me, I wouldn't mind too much, but these were the second attempt at birthday socks for my sister and I am reluctant to gift them knowing that they won't be as comfortable as hand made socks can be.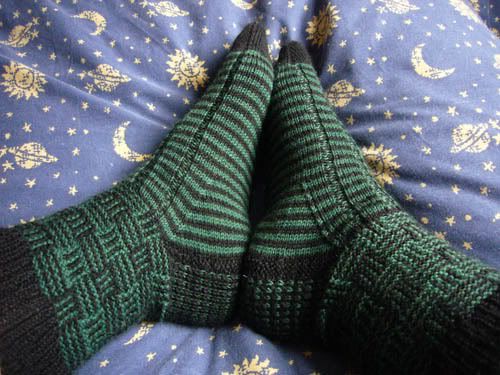 As a break from the dreaded sister-socks, I thought make Glaistig by Robin Melanson for a friend. These are really pretty and I love the detail of buckles at the wrists. So I cast on with some Artensano Alpaca from the stash in a soft light grey. I managed to knit up all the main parts out of one 50g ball, which I was quite chuffed about - although it didn't leave any spare for covering the buckles.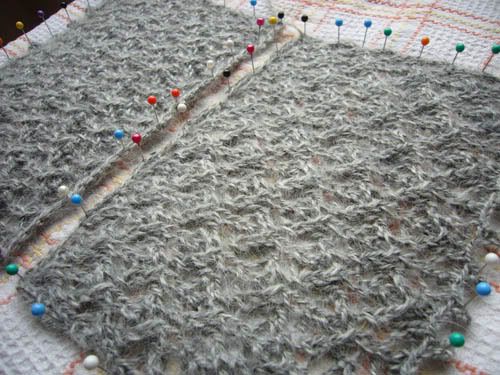 Finding buckles proved to be more difficult than I had expected. But I found a very decent selection at
Buttons, Buckles and Belts
and ordered a few to try out - total cost less than £4! I ordered them Friday and they arrived today, which is pretty good going and I liked that they used good recycled packaging.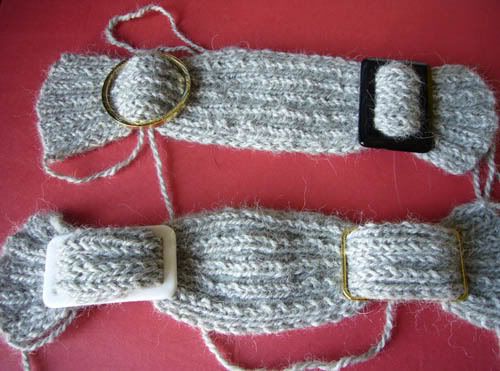 Can I get away with the black plastic ones top right left uncovered? The gilt ones are a little heavy, and I'm not sure I like the way that the horizontal type pull the ribbing in too tight. Hmmm.