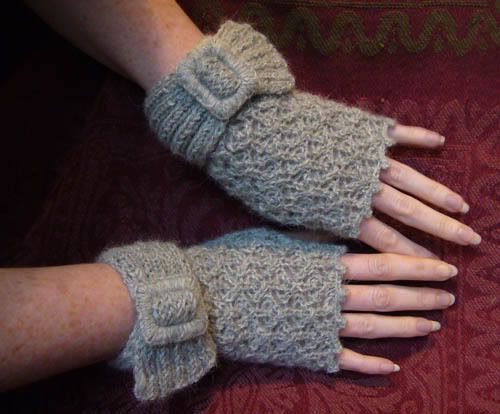 Pattern:
Glaistig by Robin Melanson, from Knitting New Mittens & Gloves
Yarn:
Artesano Alpaca, Inca Cloud 2/4#009 light grey, 2x50g
Needles:
3,5mm bamboo
Mods:
none (not planned, anyway)
I am very happy with the way these turned out and I know that they are the first of many pairs that I'll be making. I used one 50g ball of yarn to make both cuff and hand pieces, and after much umming and ahhing decided that I really did want to have the buckles covered as well. Somehow the look of the shiny didn't seem right with the soft yarn. So I made a trip to the indoor market where there is a little shop that sells all sorts of stuff (while I was in there someone came in to ask for comedy inflatable boobs, as you do) and had a rifle around in their buckle box. It really was a treasure trove, and I said as much - to which the lady behind the counter gave me a bit of an odd look. It always strikes me as odd when people who work in these places seem to totally fail to see the enchantment of them. Maybe it's something that wears off after a while and she no longer sees the charm of boxes of old buttons and odds and ends. It's also possible that she was busy, but that's beside the point.
Anyway, I found some shorter, fatter buckles which allowed a bit more room for the end of the cuff once they'd been covered - which took quite a bit more yarn than I was expecting, certainly made quite a dent in the second ball of alpaca.