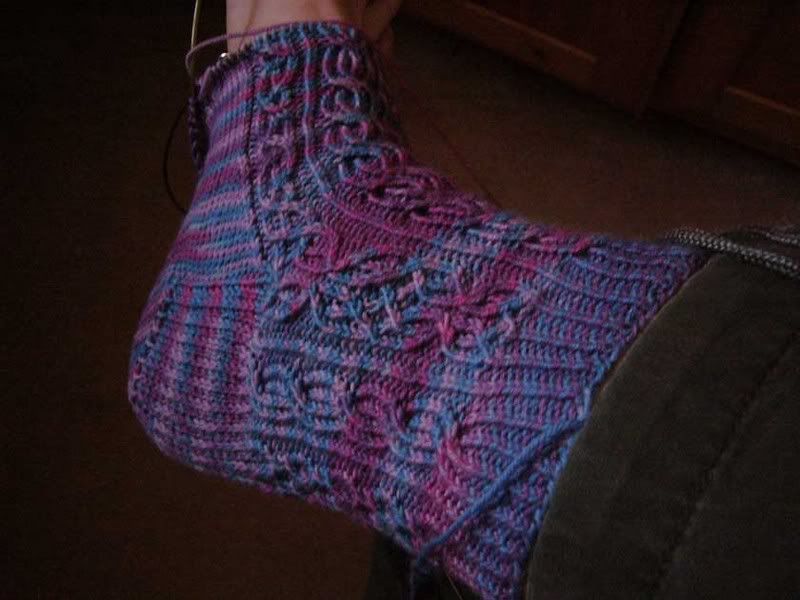 The Bayerische sock has progressed a little since my last post. I decided to
make them a bit shorter than the original design, as I am wanting a longer length foot and do not want to run out of yarn. The colours of the yarn are not ideal for showing up the pattern, the cables look more like a lace pattern from a distance, but that's ok. I like them. Or it, I should say.






The weather is not so good today, so I have been mostly staying in and playing computer games so far. When the weather was nicer on Friday I spent some time out in the garden tidying up the piles of shrub branches and bits from when I pruned the shrubs back during the winter. For some reason my neighbours thought that everyone on the estate would like to listen to their Meatloaf CD, so I felt barely a twinge of guilt as I powered up my rather noisy shredder. I've had the shredder for a couple of years now, and it is not the satisfying toy that I thought it would be. Sadly, it is frustrating and hard work to use, but it sort of does the job and it means that my garden waste can go on my compost heap rather than needing to be taken to the tip so I persevere with it.

As a reward for doing house/garden work, we went to Lyme Park on Saturday for a walk around the estate and gardens.