I feel very much at home crocheting granny squares out of brown, beige and green acrylic yarn.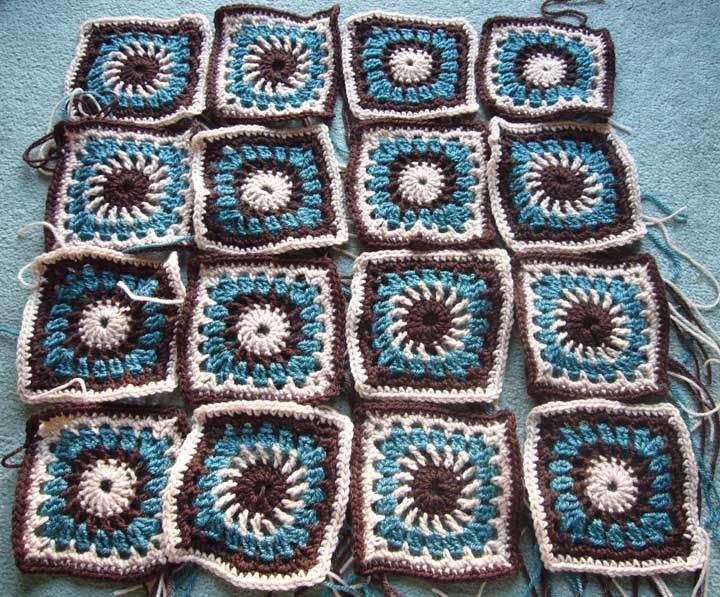 Mum will be proud.

Things have been rather subdued here at Sheep Happens Towers lately. Rob did his back in at the beginning of the week, so has been hobbling around the house feeling sorry for himself and I almost lost a thumb being mauled by a savage beast... that little white cat from up the road sure does have a temper on it. I had just started the lawnmower up and didn't really want pieces of cat cluttering up my lawn, so reached down to persuade him away from it, when he turned and slashed open the side of my thumb. There are a couple of strange things about this, firstly that the cat is usually really friendly and secondly that he would come anywhere near a lawnmower that was powered up, as most cats in my experience scarper as soon as the racket starts. We have come to the conclusion that the cat is probably deaf (it does have odd coloured eyes, which seems to support this theory) so couldn't hear the lawnmower and maybe I surprised him by putting my hand down while he was looking the other way. Needless to say, I shall be more wary of little white cats in future.

The crochet blankey is being made from stash. And I was very good when I visited my local yarn shop to purchase Badger's birthday present and didn't buy anything for myself, DESPITE THERE BEING A SALE ON! except for a copy of Knit Today (which has a nice jumper in it, but that was about it) so I am feeling very virtuous. Please send polish for halo. And Elastaplast.