We had a lovely evening last night with our friends, stuffing our faces with baked potatoes, stew and fruit crumble with ice cream.

I have to show off the present that they bought us from Manchester Art Gallery, which I think is inspired. It is a porcelain toothbrush holder in the shape of a tooth. Genius.
There was much talking and a small amount of knitting. Kirsty has 'inherited' an almost completed tank top from her Auntie Joan and would like to finish it as a present for her Dad, so we were deciphering the (very old!!) pattern and I showed her how to work the dpns for the neckband. There's not much left to do, but it might take a while with a very interested 1 year old about! I have also introduced Kirsty to the world of sock knitting - and gave her one of the balls of Opal Elemente from my stash and some Addis to get her started.

What goes around comes around, for today a skein of sock yarn arrived for me as a present from Badger for writing her a poem (or cobbling together some words that rhyme would be more accurate).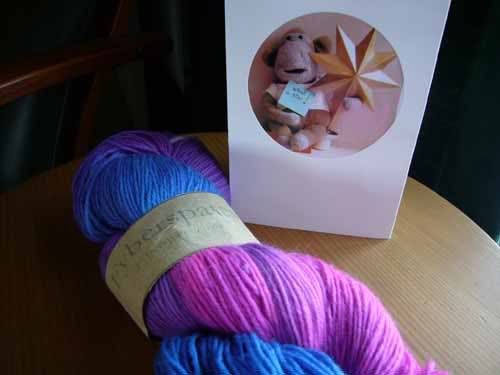 My Posh Yarn Lace Club yarn also came today, it is Felicity - pure silk and pure heaven.