...is now a scarf.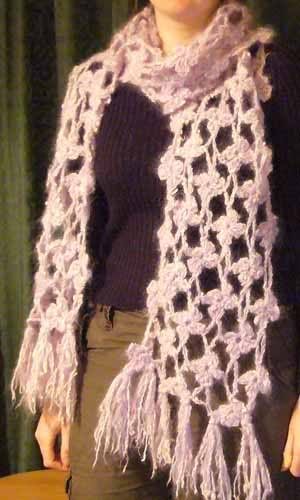 I realised that I had miscalculated the number of flowers needed to make the flowery thing as a shrug, and it would have been flopping over my hands and way beyond. So I decided a change of plan was needed and simply finished it off when it reached scarf size and added some fringes. It may not look like much, but I am very pleased with this project as it was my first foray into lacy 'open' crochet (I have no idea what the correct term is, but by 'open' I mean repeated flower motifs joined by chains rather than solid material rows of crochet) following a pattern, so I am rather chuffed that I was able to decifer it.

This is the final result (and demonstration of my bad posture...)
I have also made another pair of the Noro wristwarmers, but these are a gift for Pie Princess, who won't get them for a couple of days, so no piccy just yet.

In my crazed state of getting on with unfinished objects, I also did some more of the DB hoodie and am almost at the top of the first sleeve now. The yarn is really hard work though, so I don't think I'll be working on that solely and have started making plans for a pair of gloves out of the Badger Fyberspates. I was going to do a pair of chevron socks with it, but when I saw the little tension swatch on my finger I thought it would be ideal for a pair of gloves.
There are loads of patterns in my Grandma's pattern collection, so we'll be heading back to the 1950s for these. I don't think the 'new' Paris style shorties are for me, but there's a rather nice pair of ribbed cuffed ones with patterned backs that look just the job.