"Knitting is something you can do, even when your heart is
going like a trip-hammer and the pit of your stomach feels all gone and
your thoughts are catawampus." Susan Baker (Rilla of Ingleside, LM Montgomery)
I put this into practice yesterday, frantically knitting away while waiting to be collected to take Cadbury to the vets for an emergency appointment for a blocked bladder. Things are now going to plan (they were looking rather bleak first thing this morning) but he will still have to stay in for a couple more days at least. Hopefully he will respond to this treatment and we'll be able to bring him home.

Anyway, let's talk about knitting.

The felted slippers are still too big and have been put to one side. I think they need to go on a very hot wash, and I'm reluctant to put the washer on just for them, so they can wait.

I started on a pair of pretty socks, using my Lucy Neatby Celestial Merino (Seashell) and the Lace Rib pattern from SKS. I rather like the mottled effect of these with the lacy pattern.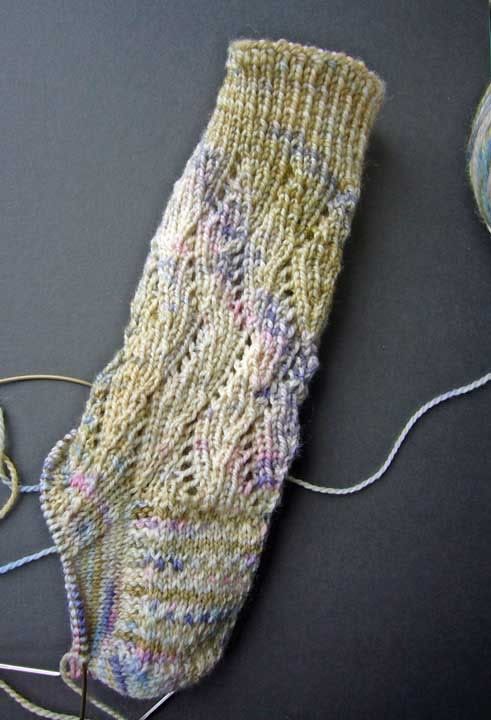 Also, here is a not very good picture of my Molly's Headband that I finished the other day. It is surprisingly difficult to get a decent photograph of the side of your head, especially when looking in a mirror. The Lambgora yarn is lovely, but the overall colour is a bit more vivid than I was expecting. Still, it was a fun, quick knit and something that I think will get a lot of use.