It is Springtime Secret Santa Time at the Angel Yarns knitting forums, and my pressies arrived today!

I collected my parcel from the collections office at the post office, thankfully I managed to get there just before the rush of other people leaving work at 5pm got there (my office is just up the road!) and hurried home to unwrap it.

First there was a big parcel: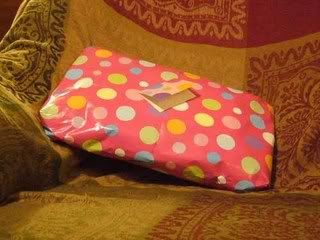 Then there were lots of small parcels - and a cute kitty bookmark (someone noticed I got a lot of new books lately!) and some cat treats (they also noticed I have a cat who is very fond of food!)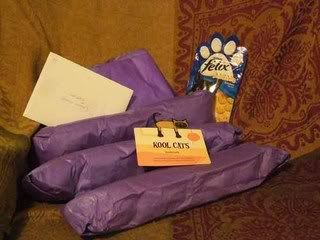 And then the pressies!!
There is Fyberspates cobweb laceweight and Opal sock yarn, both undyed and some colours for me to play with. Also some Zegna Baruffa Extra Fine Merino laceweight yarn which is very soft and such a pretty colour. There's lots of it too, so if I am feeling brave I might attempt one of the larger projects from my Victorian Lace Today book.

The clue was very good too:

1st part:
30 days have September
April, June and November
The 2nd line contains part of my name if you look closely

2nd part:
What is formed when H2O reaches 0°C.

The answer? Janice! Thank you very much indeed for such thoughtful and pretty gifts :)