The hat and cardy have been posted. The birthday socks have been posted. I posted instructions on to get to my house to my Mum - you'd think a mother would know the way to her daughter's house, and she does, but only from one direction! I remembered to post a birthday card to my Grandpa, who's birthday I always get wrong. I know I remember it wrong, I always think it's on the 4th rather than the 6th and post a card according. Sadly I always then realise that it's actually the 2nd not the 4th or the 6th. Ah well, better late than never. All this cost me over £5. I have no idea about sizes, weights, parcel post, letter post or anything, I just handed over the money.

It was rather a bad weekend. Cadbury's back has swelled up and formed a lump which is quite noticable. I took him to the vets and he was duly poked and prodded, given an injection and antibiotics and words like abscess, cancer, sarcoma and surgery were mentioned. An emergency visit for this Monday was scheduled and all weekend I have been a bag of nerves and worry. We've only had him three weeks, haven't organised insurance for him yet, there is a type of sarcoma which is thought to be associated with vaccination, so is this something I have done to him? All these thoughts in my head. He seemed totally oblivious, which is probably just as well as I think if he'd picked up on my mood we'd not have got him out from under the bed for a month.

So this morning I went to the vets (thankfully the smell in the waiting room was eminating from someone else's cat carry box and not mine) and had a nice calm chat with a different vet. He thinks it is just swelling from where the microchip was injected as they have to use a big needle and it is possible for them to hit other things and cause bruising. He thinks that the chances of it being a sarcoma are non-existant as they take years, not weeks to form, and it would have been noticed during the previous examination. It's possible it could be an infection around the chip, but the antibiotics will clear that up. So a much relieved Helen brought Cadbury home for his breakfast.

Kind of appropriate to my mood this weekend was my knitting: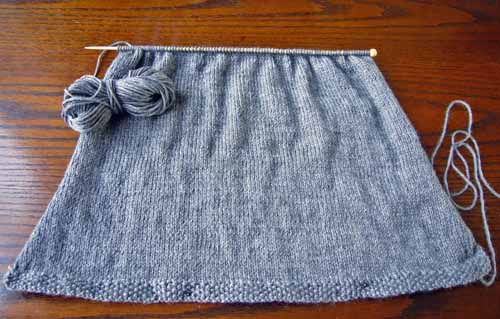 A big flat expanse of grey in stocking stitch on 3,5mm needles.

However, today I am in a better mood and it looks soft and muted, and the merino has a silky soft feel to it. I think (hope!) it will look lovely with the details on the collar and sleeves picked out in dark red


This is what I'm aiming for - the Smock Jacket from Debbie Bliss Celtic Knits book.