*blows dust off blog and settles down to type*
Ahem.
I've been planning this post for a long time. I was going to post when I finished my next knitted project, so that I had something intricate and amazing to show for my time and have lots of other excuses prepared, but quite frankly I don't.
I finished (sort of) making something!
Pattern: Corset Pullover by Robin Melanson.
Yarn: Patons Washed Haze Cotton DK (January sale bargain from Kemps at 49p per ball)
Shade: Sand
Size made: 35 1/4"
Amount used: about 10 x 50g balls (I think)
Needles: 5mm straight, dpn and circs.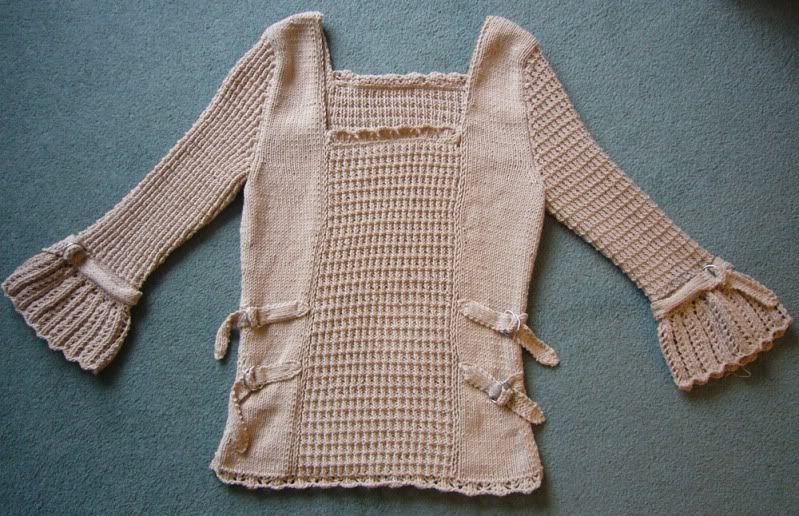 Mods:
Made the length longer in the lower body, working an extra 1" before starting the shaping and decreasing every 6th row rather than 3rd.
However, before it is really finished I'll need to undo the seam at the tops of the shoulders and shorten the neck probably about about half an inch front and back to the shoulder shaping as it looks a bit baggy around the top. I will do this at the weekend, block it and then take a photo of it being worn as it's quite fitted and looks better on than laid out flat.
I also have to decide whether to keep the cinch straps around the arms, as I think they might be a bit too much??
And lastly, before I go - with a promise to return soon, maybe even with some more knitting! - here are some pictures of yummy yarn and cute lambs.