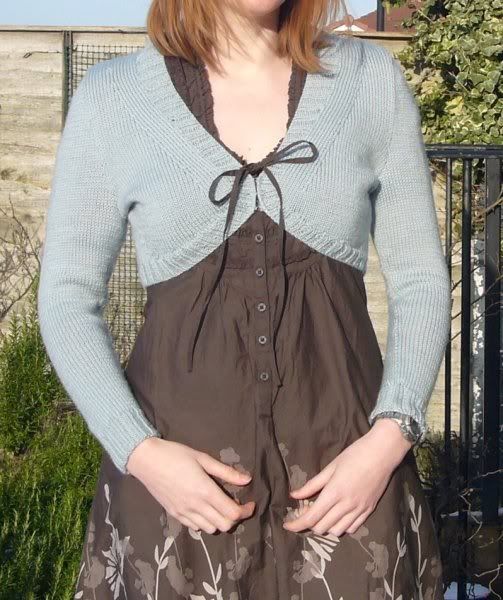 Pattern:
Shrug by Debbie Bliss (free pattern from Prima)
Yarn:
Bargain merino DK
Needles:
3,75mm
Mods:
Made arms slightly longer
About a week before my Mum's 60th birthday last year, I decided to make a shrug to go with the dress that I'd bought to wear to her party. About a month after the party, at which everyone had a thoroughly good time, I finished knitting the shrug. Having sewn up and tried it on, I have to admit to being a bit disappointed with the results and it ended up languishing at the bottom of my work basket waiting to be blocked. The languishing period seemed to correspond with my lack of enthusiasm for both blogging and knitting. I don't know that I'd blame the shrug, but it certainly didn't help.
A couple of days ago, I decided to rescue the shrug from it's baskety confinement and do something with it. Thankfully, a bit of blocking seems to have done the trick. The front is still quite stretchy and looks better held together so I added some hooks and eyes (that belonged to my Grandma, from a pack bought lordknowswhen for the princely sum of 7p) to create a join as inconspicuous as possible.
It turns out that I actually quite like it afterall :)