So October is now here and it is autumn good and proper. Today's weather has been lovely, sunny and still, but chilly with a hint of crispness in the air. Not bad at all considering it was supposed to be gales and torrential rain. I guess that'll be here tomorrow - Saturday - ah well. Today was perfect for taking photos in the back garden, so it was good that I have something to show.
My Drops jacket is finished and I am quite pleased with the way it turned out. Took a little bit longer than I expected as I decided to reknit the arms. The pattern calls for something like 34 stitches for the cuffs, knit straight at then increase up to the shoulder and 'bell-shaped' doesn't even begin to describe. I am not a fan of baggy sleeves and there was a definite risk that the hugeness of the sleeves would use up all my yarn - and possibly start invading other people's stash all by itself - so I frogged and redesigned with my own preferred sleeve style, hugging and long enough to cover half my hand.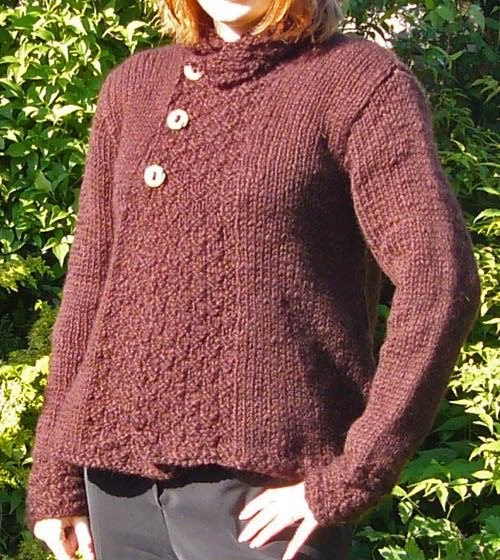 Pattern:
103-1 Jacket in Eskimo or Silke-Alpaca with A-shape
Yarn:
Rowan Chunky Print, in Pit. 7 x 100g balls
Needles:
9mm Denises
Mods:
Made body slightly longer, arms longer too and more fitted
The buttons came from my Grandma's button stash that I inherited. They may not be the prettiest or trendiest buttons in the world, but they make the whole jacket seem more special to me.